THE CONTRACT: This contract is between you (THE CLIENT(S)) and us (Emporium Décor Ltd).
OWNERSHIP: All Equipment, Props and Hire Items are the property of Emporium Décor Ltd and will remain so unless specifically contracted. Hire Items may not be taken or sold.
SHORTAGES, LOSS & DAMAGES OF HIRE ITEMS: Once hand-over has been made to you, shortages, loss and damages of items will be charged to you at the full replacement value.
Holding Deposit: We ask for a £100.00 holding deposit. The holding deposit, minus any deductions for loss or damage will be returned within 7 days of the hire date.
DAMMAGED GOODS: remain the property of Emporium Décor Ltd.
EVENT LIABILITY: All our operations are covered with full public liability insurance.
HIRE ITEMS: are guaranteed for your use on the actual specified days of the hire period only.
SUBSTITUTIONS: Unlikely and unforeseen circumstances may require us to make substitutions. We reserve the right to make such substitutions whilst ensuring the highest quality possible and equal value to the price quoted.
COLOUR MATCHES: Whilst we will endeavour to deliver your requirements, due to the manufacturing process outside of our control, exact colour matches cannot be guaranteed.
EVENT DATE / TIME / DURATION / ITINENARY / VENUE CONTACT CONFIRMATION: You have the responsibility to provide us with this confirmed information as soon as is practicably possible and no later than TWO WEEKS before your event.
On your authorisation, we are happy to work with venue management or any co-ordinator you have hired. In this case, you delegate to them the responsibility to provide us with this confirmed information.
Venue Management are required to inform us of set-up and breakdown windows around your event.
Goods must be ready for collection at the agreed date and time. A charge will be made for an aborted deliver/collection by the owner where a venue/hirer/customer is at fault.
If goods are not returned by the hirer at the end of the agreed hire period Emporium Décor Ltd retain the right to charge for:
An additional charge for the period the goods are not returned.
The cost of replacement goods where hired items are permanently not returned.
FINAL GUEST NUMBERS: you have the responsibility to provide us with confirmation of final and or changed guest numbers for your event, TWO WEEKS before the function date. Significant variations will reflect within a revised invoice.
DEPOSIT: The date(s) and product(s) included within this order are on "TENTATIVE HOLD" only and cannot be reserved without a deposit paid and your signature on this booking form. A non-refundable deposit of 25% of the agreed total is required to secure the order.
BALANCE PAYMENT: unless otherwise agreed in writing, no goods will be released to the client or courier, or delivery arranged without full payment no later than 4 weeks before the event. Payment instalments are accepted; where full payment will be achieved no later than 4 weeks before the event.
CANCELLATION FEE: 4-8 weeks – 50% of the total booking value.
Less than 4 weeks – 75% of the total booking value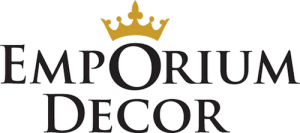 As we like to say at Emporium Decor: "The difference between ordinary & extraordinary is that little bit extra". This is why we're held in such high regard amongst previous customers as they understand our attention to detail and personal care is a passion of ours all to satisfy you on your special day.
Unlike most decor companies we have a showcase of our design features, here in our showroom, where we invite you freely to come and take a look if you're shopping for a decor company that's sure to leave you speechless as you breathe in the atmosphere of the day.
Feel free to contact at any moment for any questions or enquiries and we hope to hear from you soon.